Introducing Miss Meg Lucas
,

founder of Lips So Facto, often cited the UK's go-to beauty blog. Just like Miss Vogue and InStyle magazine before us, we want to celebrate her must-read blog. Lip So Facto is an eclectic mix of all things beauty, with music, travels and a little glimpse of fashion.

Meg started her beauty reports as a uni student after pleading guilty to spending too much time aimlessly scouting the pharmacy aisles looking for the perfect new foundation. She then decided to make a change and help out all the ladies of the world who, just like her, were clueless about beauty products.
What next? A few years on and Lips So Facto has evolved into one of the UK's top beauty blogs and listed by InStyle and The Times as one of the Top 50 websites for fashion and beauty. Wearer of many hats and master of all, Meg also regularly work in beauty marketing and communications, as well as freelance projects including beauty writing and brand/social media strategy.
Find out more about the many cool projects and collaborations Meg is fully invested in on LipssoFacto.com. From her top tips on how to get just the right amount of beauty sleep or her slight addiction to NARS products, you will find all vital information necessary to prep you fully for the next Boots shopping spree. (Who knew!?)
Our Favourite Posts
WHISTLES VERITY BACKPACK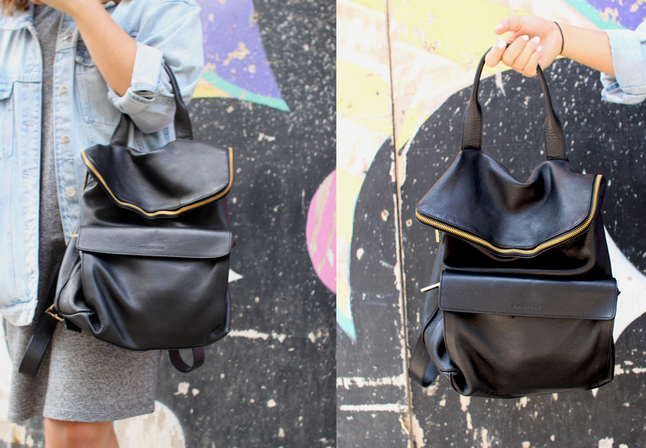 (Image source:
http://lipssofacto.com/whistles-verity/
)
Meg's most recent entry revolves around this Whistles rucksack. We absolutely fell in love. We all know it's hard enough to fit everything a girl needs or "doesn't really need, but still brings with her everyday" in one handbag (or even worse, a clutch). This Whistles bag saves the day, at the same time as being useful and pretty. That's all a girl needs, right?
This post is nestled within The Style section of Meg's blog, an area full of inspiration from London Fashion Week AW14 – ideal for getting that perfect look for your next Summer night out. Not only that, you will catch a glimpse of all the press day highlights, her thoughts on the new AW14 collections and obviously the beauty facet behind the runway.
THE UPGRADES

(image source: http://lipssofacto.com/upgrades/)
After a good read through Lips So Facto, we felt a soft spot for the recent UPGRADES post. We followed Meg as she returned to her teenage years, the days where Head & Shoulders and Clean & Clear were must have products. Thank the lord of beauty, Meg talks us through the 'Upgrade' equivalents that will help us replace those products for good, god forbid we probably all own some!
Mix it with LoveSales
http://lipssofacto.com/13-favourite-products-of-2013-2/
)
Interested in all the pretty Lips So Facto products and still can't decide which ones you should go for? Don't worry we have your back. Sign up with www.lovesales.com, get our browser button and add your favourite items to your personal wishlist. We will let you know when they go on sale or even when they have a price drop. This will give you time to make up your mind and see which ones have really caught your eye.
To see how LoveSales works visit our 'How it works' page, sign up with us and start shopping now.
For more LoveSales Fashionistas of the week, join us on any of our social channels and we will 'Holla' at you when we have giveaways, new interesting blog post or just when we want to have a chat. Check out our Pinterest or Intsagram account and have a close up of the LoveSales style and see what we are all about.
Until next time
Marika x.