London based journalist and owner of award winning fashion blog, Coco's Tea Party, Ella Gregory, is at the forefront of all things shopping, fashion and style.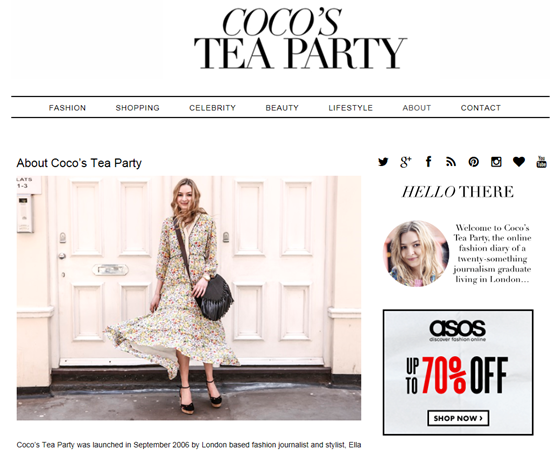 (Image source: http://cocosteaparty.com/)
Coco's tea party was launched over eight years ago and has been rising to queens of fashion blogging ever since. Ella Gregory is a British Fashion Council's blogger panel member and University for the Creative Arts graduate; and now one of the top fashion bloggers in the UK. Known not only for her lust worthy personal wishlist, Ella covers all things style in her blog, including some recent tips on shaking the fear of orange lippy!
Her good taste is also displayed over on her Pinterest page. Mixing sweet treats and cheeky cats, the Londoners personality is showcased with a large amount of stylish and glamorous goods. Catch a glimpse of her everyday lifestyle on Instagram @cocosteaparty, with exotic foods and thoughtful quotes that will make your day ever more colourful.
Our Favourite Post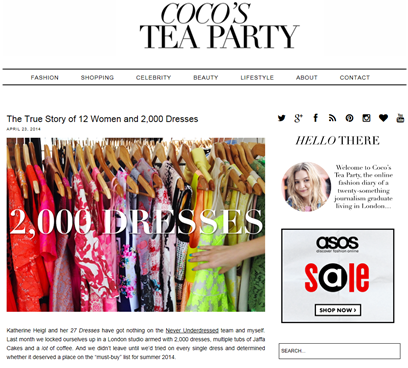 (Image source: http://cocosteaparty.com/category/fashion/page/2)
They say shopping isn't a sport? We call trying on 2000 dresses a marathon. Visit www.neverunderdressed.com for details.
Every girl's dream wardrobe was narrowed down into one single room for the 'Never Underdressed' event. Twelve fashion lovers from across the world, including Ella Gregory, were asked to use their industry knowledge and personal preference to select the top 120 best Spring/Summer dresses for the 2014 collection. Road testing top dresses from different brands, colours and price ranges was a surprising challenge for these ladies!
No one could say it better: "Katherine Heigl and her 27 dresses have got nothing on the Never Underdressed team"
Ella gives her readers a run down of her top picks and best moments on her world renowned blog, www.cocosteaparty.com.
Bring the Party to LoveSales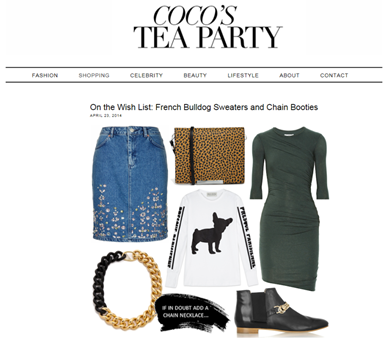 (Image source: http://cocosteaparty.com/category/shopping)
Enjoying a read through Ella's wish List and fallen in love with her wardrobe? Sign up with www.lovesales.com, get our browser button and add some of Ella's daily picks to your personal wish list! We will let you know when these items are on sale or have a price drop so you can rock those new leather boots for less.
For more information on how LoveSales works visit our 'How it works' page, sign up with us and start shopping now.
Follow us and be updated on all our promotions and giveaways @lovesalesdotcom or www.lovesales.com
Want an invite to the party? Follow Ella's everyday posts @cocosteaparty or www.cocosteaparty.com
Marika x