Sales happen everyday of the week across the biggest retailers, not just on Boxing Day or Black Friday. Most of the time consumers are completely unaware that a sale or price cut on products they love happen day in day out. Retailers constantly have to rotate stock and add new lines in and thereby you can be assured that there will be more than the very obvious peak sales every year. With that in mind LoveSales has been designed so the sales comes to you and you don't have to spend hours keeping track of brands and products that you love. Every day we send alerts to our customers telling them that sales have started on their favourite brands so that they never have to pay full price again! We literally save our customers thousands of £'s every single week and now you can save even more.
We have added another 150 brands for you to save money on!
We want to offer our customers as much choice as possible and ensure that we track every leading brand. So to keep you guys happy we have added an extra 150 brands to our site making a total of 400 brands that you can save money on. We don't just let you know about price cuts in fashion, but can offer a raft of sales news across home and electrical products.
Fashion Brands
Shopping for fashion online is hugely popular and it's even more rewarding when you get the styles you love at the prices you want to pay! This is why we have added more of your favourite fashions brands. Brands such as; Diesel, Kate Spade, Quiz, Little Black Dress, Bonmarche, Macy's, Bloomingdales, Wrangler and many many more!
Home Brands
You will be amazed at how much you can save on all your home essentials, from homewares to big home electricals such as televisions and fridge freezers! We have added AO.com, Dreams, Lakeland, The Range, Barker and Stonehouse and so many more!
All your Favourite Brands!
As well as adding retailers to cater for fashion and home, we have added an amazing selection of brands to help you save on everything possible! Such as, Pets at Home, Prezzy Box, Triumph, FireBox, Pumpkin Patch, M&M Direct and so many more for you to add!
We have all the biggest and best retailers and all the top designer brands for you. We work with them to bring you the best deals and let you know about the sales as soon as they come on.
Add More Brands….Save More Money!
The more brands you subscribe to the more sales you will find out about. Why pay full price for the things you want when you don't have to.
We have so many brands on the site now that you can literally save on everything you need to buy for the whole year whether that's saving on a brand new outfit for that party, making huge savings on that new television you want or maybe just saving on your household goods.
If you are in to your designer items, you can save on those too, there's no need to pay full price for designer handbags, designer shoes or clothes, get them for up to 75% cheaper than everyone else! You can be the envy of all your friends.
How Do I Save More Money?
To save more money you will need to add more brands. If you are already signed up to LoveSales you will have added some brands to your account when you first registered, it's so simple to add some more though.
Step 1 – Login
You can either do this with your email address or with your Facebook details
Step 2 –
Click the menu on the right hand side of the screen. Here you will see an option which says My Brands Click into my brands which will take you to all your new choice options.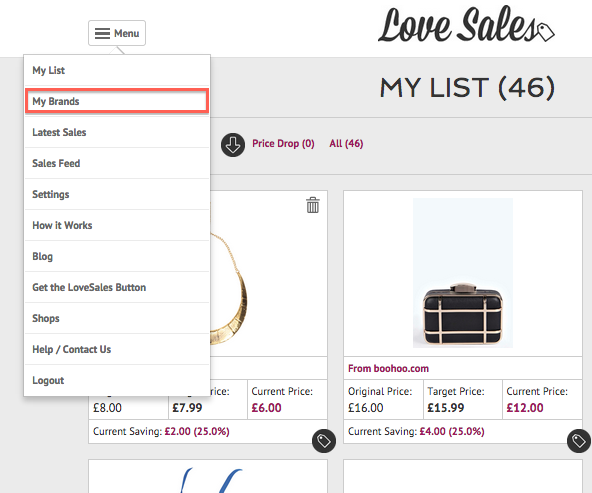 Step 3 – Add more brands!
Here you will see all the brands you have added beforehand, you will notice that the list has grown a lot! It's just as simple as it was before, click to highlight the brands you want to receive sale alerts on. All the brands are in alphabetical order so its easy to find the ones you love. You can search at the top if you have a specific one in mind.
If you haven't signed up to LoveSales yet, its so easy and it's completely free! Just sign up, choose as many brands as you like. Don't worry, if there are multiple sales on one day we won't bombard you with emails, they all appear on one email to make it easier for you. Then sit back, relax and let the sales come to you
Sign up to LoveSales now and save money on everything you love.